A long-awaited appointment that, since the first day of opening, has seen a constant influx of children and families, eager to pick up the thread from the point where it was interrupted two years ago, due to the emergency linked to Covid-19. Over the two opening weekends, the 24th edition of Seridò recorded over 65,000 visitors, confirming itself as the largest national non-profit event entirely dedicated to children.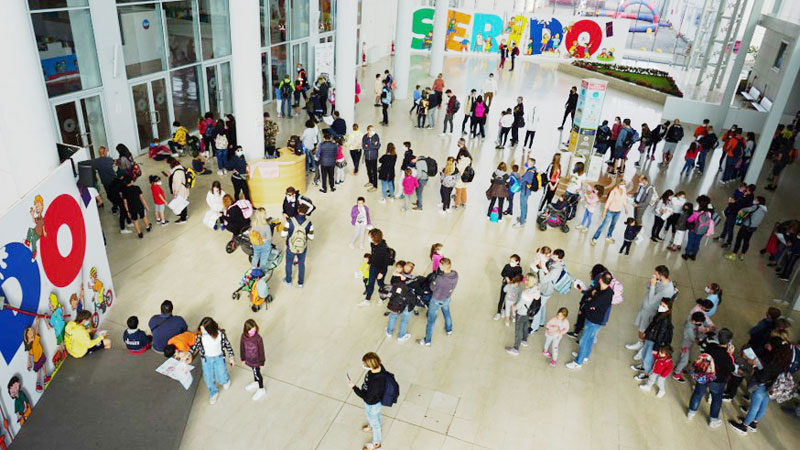 The event promoted by FISM Brescia (Italian Federation of Nursery Schools), Centro Fiera Montichiari and La Nuvola nel Sacco, a Brescia social cooperative, offered the opportunity to safely experience numerous gaming, entertainment and learning experiences that, for over twenty years, are the hallmark of Seridò: more than 100 attractions with giant games, "tracks and wheels", inflatables of all sizes, many creative workshops, theatrical performances by the Compagnia Teatrodaccapo, areas in which to try out different types of sports, jumping on trampolines, playing with maxi bowling or marbles.
A considerable organizational effort, made possible by the proximity of partners such as BCC Garda and Garda Vita, CAMST, Centro Don Serafino Ronchi, CBBO, Alleanza Assicurazioni, Bonera Group, Fonte Tavina, who supported the event and believed in goodness from the beginning. of the project. Furthermore, to make each edition of Seridò unique, there is the irreplaceable contribution of educators, animators and volunteers who, with their passion and expertise, give life to play areas and workshops reserved for children.
"Starting again after two years of hiatus could seem like a risky bet", explains Massimo Pesenti, president of FISM Brescia. "The numbers, however, proved us right, going beyond the expectations of the eve. Seridò is confirmed as a truly unique event of its kind, an educational project in which children are the real protagonists and parents and educators put themselves at the service of the little ones. "
"The results of Seridò 2022 are really very encouraging," said Federica Avigo, president of La Nuvola del Sacco, a social cooperative that has always been involved in the organization. "Even after a two-year break, the organization of the event fully responded to expectations and allowed for an excellent edition. Our cooperative is always proud to continue the Seridò experience. "
"Seridò is a real tradition that has received considerable acclaim this year as well", declares Gianantonio Rosa, president of the Montichiari Exhibition Center. "After the break imposed by the health emergency, we are happy that our neighborhood has returned to offer children and their families days of carefree and fun but also an important opportunity for learning and growth. Now we look forward to the 2023 edition with even more confidence. "
The dates of the next edition of Seridò, in fact, have already been set: 22, 23, 24, 25, 29, 30 April and 1 May 2023. After the success of this year's edition, there are numerous innovations in the pipeline, all united by the usual goal: to propose a special event, suitable for children.